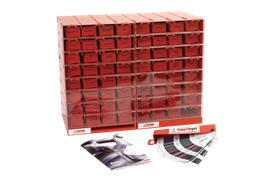 MAXMEYER® MaxColor
The first step in any job is to identify the colour. By using the MaxMeyer MaxColor Colour tool is both quick and easy.
This tool is specifically designed to show primes and variant chips in an easy to find way. The colours shown are from over 45 Motor Manufacturers and over 12,000 colours. The system was designed from painter feedback and and has a unique soft plastic fan cover with non-scratch edges and larger variant chips to make colour selection easy
Key features
Up to date colour offer with about 12,000 colour chips
Mix of prime and variant chips to make colour identification easy
Unique soft fan casing to make them easy to handle and non-scratch
Over 45 motor manufacturers covered


MAXMEYER® is a registered Trademark of PPG Industries Ohio, Inc.